EPA Honors Ten Towns Committee
May 8, 2002
MEMO TO: Long Hill Township Committee
FROM: Leonard W. Hamilton, Ph.D.
Vice Chair and Long Hill Representative
Ten Towns Committee
RE: EPA's 2002 Environmental Quality Award
As Long Hill Township's representative to the Ten Towns Great Swamp Watershed Management Committee, it was my pleasure to join the other members of the Executive Committee at the EPA's regional headquarters in Manhattan to receive the Environmental Protection Agency's 2002 Environmental Quality Award.
The EPA's Region 2 covers all of New York, New Jersey, Puerto Rico and the U.S. Virgin Islands, and we were honored to be among only seven recipients of the award in the category of Federal, State, Local or Tribal government agencies.
The award was presented by EPA Administrator Jane M. Kenny on April 30, 2002.
On behalf of the Ten Towns Executive Committee I would like to thank the Long Hill Township governing body for its continuing support of our efforts to protect this valuable natural resource.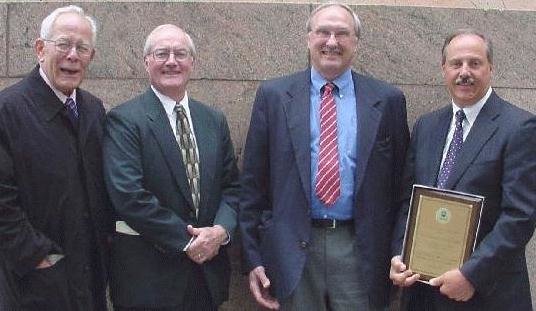 Members of Ten Towns Great Swamp Watershed Management Committee with 2002 EPA Environmental Quality Award. From left, Jan Wotowicz, Secretary; J. Peter Braun, Executive Director; Leonard W. Hamilton, Vice-Chair; and Peter J. Messina, Chair.